We provide a "seated tour" while you enjoy your lite lunch/ice cream in our Spacious Event Area. We have a professional presentation showing many local Historic Properties inwhich we discuss interior and exterior designs. ( There are over 140 Historic Homes in Union Springs in various states of restoration.)
Group rates include Ice Cream treat, seated tour, museum access & Alabama Handmade Black Belt Gift Shoppe. Our Local Artist which includes Art, Gourds, Woodworking, Pottery and MORE.... call today for your groups reservation... Guides provided for buses for a quick visual tour of Historic Union Springs - Buildings & Homes after seated tour. Always followed by Ice Cream before you leave our beautiful town.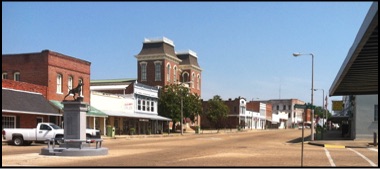 TOUR 2 - Over 120 pics of Historic Union Springs as it evolved over the years.. Cotton, Railroads, Opry Houses, etc..
Great for History, Architect, Students, etc
TOUR 3 - The Arts featuring 3 famous Union Springs people who left to pursue the Arts in New York and became famous Nationally and Worldwide (plus a few other recent sucesses)
Great for Students, Theatre History, Historians, etc
TOUR 4 - coming soon - Hunting, Field Trials, the people, celebations,etc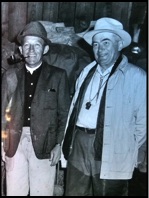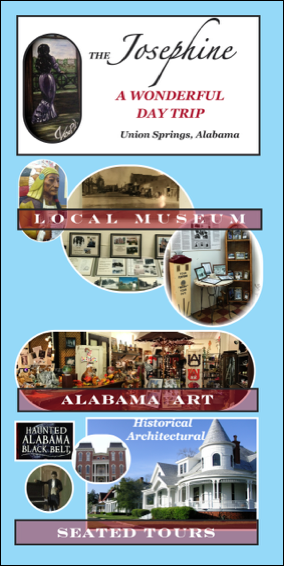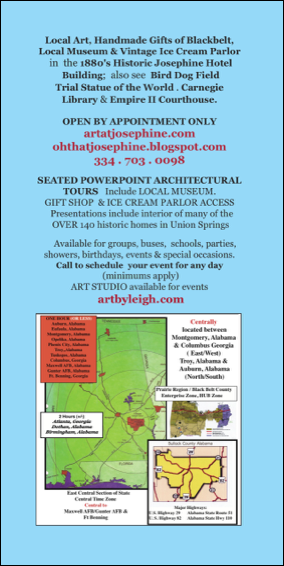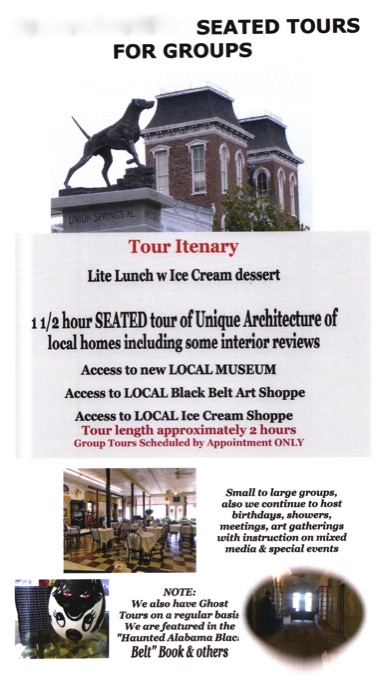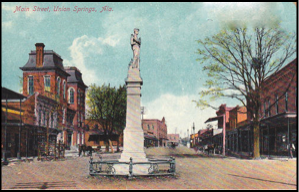 TOUR 1 - Architectual features of over 20 of our Victorian Homes Interior / Exterior Such as these pics of homes seen in 1900 post card and how they look today
Great program for Old Home Lovers, Students, Home Schoolers & Historical Groups, etc